Padayon ang atong mga Child Development Workers sa pagbisita sa tagsa-tagsa ka panimalay sa mga bata nga kasamtangang enrolled sa nagkalain-laing Child Development Centers aron ipahigayon ang Parents Mentoring, ECCD Individual Assessment, Height And Weight Monitoring ug Weekly Parents/Children Session. Kini nga kalihokan gitawag ug Center-Based Program isip alternatibong venue alang sa paghatod sa kalidad nga serbisyo ngadto sa atong mga daycare children ug padayon nga makakat-on taliwala sa pandemic crisis situation. Salamat sa atong matinud-anon nga mga Child Development Workers nga kanunay naga-agak ug nagagiya alang sa kaugmaon sa atong mga kabatan-onan. #DayCareService #MSWDMapagkalingangSerbisyo
Geology students from the University of Southeastern Philippines visited the Municipality of Manay for their Field Validation and On-The-Job Training of the different landscapes last April 20-23, 2022. It was noted that Manay has a potential when it comes to geotourism. The presence of caves in Manay such as Mabaho Cave and Biailan Cave and other land forms such as the rocky shoreline of Barangay Central constitute to the said potentials. During the exit conference held last April 23, 2022 the students shared their learnings and insights about Geotourism in Manay as well as the course itself. Special thanks to the USEP BS Geology class especially to Mr. Christian Paul F. Escarian, Program Head for the BS Geology, OJT Coordinator JP Benjamin Fortinez, MPDC Zaldy Escarian and Hon. Aristia S. Tibug of Barangay Central.
Public Information
---
Lantawa! Ania ang mga pamaagi unsaon pagkuha ug PSA copy sa birth, marriage, ug death certificate ug CENOMAR.
LGU Annual Accomplishment Report 2021
Pursuant to the Section 97 Title III Human Resources and Development of the Republic Act 7160 or the Local Government Code namely Annual Report that on or before March 31 of each year, every local chief executive shall submit an annual report to the sanggunian concerned on the socio-economic, political and peace and order conditions, and other matters concerning the local government unit, which shall cover the immediately preceding calendar year. A copy of the report shall be forwarded to the Department of the Interior and Local Government. The Local Government Unit of Manay presents to you the Annual Accomplishment Report for the year 2021. This is a Five-part Report AVP which consists of Social sector, Environment sector, Economic sector, Infrastructure sector and Local Governance.
---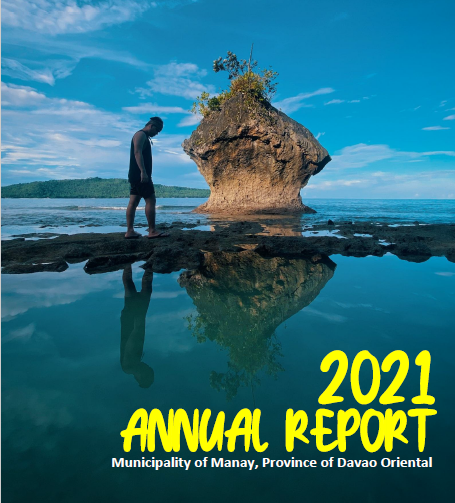 Downloadable copy of LGU Annual Accomplishment Report for 2021 now available (click here)
Local Governance Sector
---
Economic Sector
---
Environment Sector
---
Social Sector
Link here
---
Infrastructure Sector