Launching of the Electronic Business Permits and Licensing System (eBPLS) which offers businessmen and different stakeholders with features to make the process of getting business permit more accurate and fast. An eBPLS system has been in place in selected regions or municipalities by it's mostly a back-end system used by government offices. The eBPLS software will close the loop and give access to businesses and taxpayers direct access to the system for easier transactions (Olandres, 2017 of Yugatech), in which it is the first in Davao Region and in the whole Province of Davao Oriental. The event is witnessed by the different stakeholders in the Municipality of Manay with Mayor Antero L. Dayanghirang Jr. The LGU Manay is thankful to the Department of Information and Communications Technology (DICT), Technology for Education (Tech4Ed) and Department of Trade and Industry (DTI) for this milestone!
The Municipality of Manay participated in the World Environment Health Day Celebration held at September 26,2019 by conducting clean-up drive in the coast and the barangays participated by MENRO, PNP and local agencies
Article written by: Melanio B. Castro
Public Information
---
Lantawa! Ania ang mga pamaagi unsaon pagkuha ug PSA copy sa birth, marriage, ug death certificate ug CENOMAR.
LGU Annual Accomplishment Report 2021
Pursuant to the Section 97 Title III Human Resources and Development of the Republic Act 7160 or the Local Government Code namely Annual Report that on or before March 31 of each year, every local chief executive shall submit an annual report to the sanggunian concerned on the socio-economic, political and peace and order conditions, and other matters concerning the local government unit, which shall cover the immediately preceding calendar year. A copy of the report shall be forwarded to the Department of the Interior and Local Government. The Local Government Unit of Manay presents to you the Annual Accomplishment Report for the year 2021. This is a Five-part Report AVP which consists of Social sector, Environment sector, Economic sector, Infrastructure sector and Local Governance.
---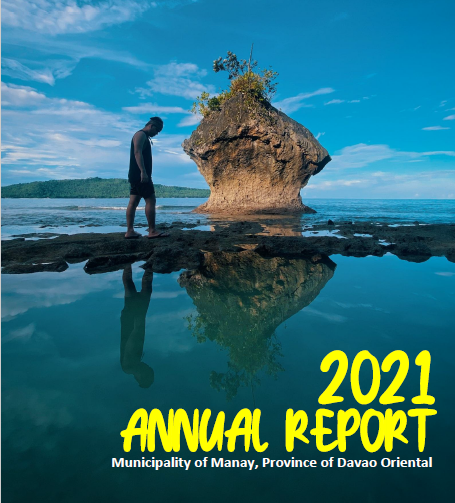 Downloadable copy of LGU Annual Accomplishment Report for 2021 now available (click here)
Local Governance Sector
---
Economic Sector
---
Environment Sector
---
Social Sector
Link here
---
Infrastructure Sector