Congrats Barangay San Isidro for winning 1st Place in the recently concluded AgriCultural Tourism Fair 2019 held last October 22-24, 2019 at the Back of Manay Municipal Hall. Barangay San Ignacio garnered the second place and Barangay Central ranked third. AgriCultural Tourism Fair aims to promote the Agriculture, Culture and Tourism of each barangays. #agritradefair #wowmanay #manaytourism
October 23, 2019 at Barangay Gym of Barangay Central. Special thanks to Hon. Aristia Tibug for the venue as well as to our Judges Sir Ramil "Bobcat" Gregorio, Sir Danver Palimiano, Miss Ida Nanette Damo and our Media Partner Sir Ace Perez of Sunstar Davao! Pinta Manay 2019 is part of the celebration for the 122nd Araw ng Manay and Parochial Fiesta in coordination with the Municipal Planning and Development Coordinator headed by Sir Zaldy D. Escarian, Manay Tourism headed by Mam Jan Mae D. Llavore and LGU Manay headed by Mayor Antero L Dayanghirang! #WowManay #ManayTourism #Katipanod #PintaManay2019
Public Information
---
Lantawa! Ania ang mga pamaagi unsaon pagkuha ug PSA copy sa birth, marriage, ug death certificate ug CENOMAR.
LGU Annual Accomplishment Report 2021
Pursuant to the Section 97 Title III Human Resources and Development of the Republic Act 7160 or the Local Government Code namely Annual Report that on or before March 31 of each year, every local chief executive shall submit an annual report to the sanggunian concerned on the socio-economic, political and peace and order conditions, and other matters concerning the local government unit, which shall cover the immediately preceding calendar year. A copy of the report shall be forwarded to the Department of the Interior and Local Government. The Local Government Unit of Manay presents to you the Annual Accomplishment Report for the year 2021. This is a Five-part Report AVP which consists of Social sector, Environment sector, Economic sector, Infrastructure sector and Local Governance.
---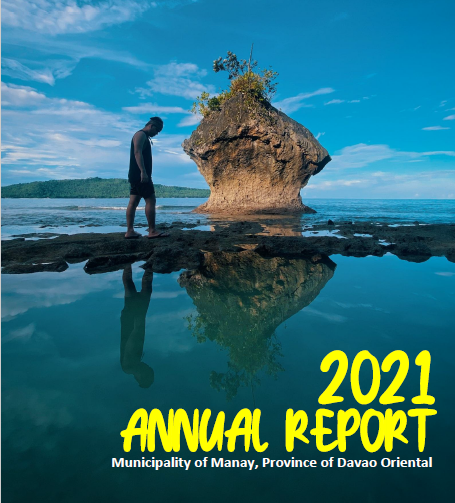 Downloadable copy of LGU Annual Accomplishment Report for 2021 now available (click here)
Local Governance Sector
---
Economic Sector
---
Environment Sector
---
Social Sector
Link here
---
Infrastructure Sector